The Boulder Local Table Tours staff enjoyed a fantastic feast with the illustrious international culinary tourism extraordinaire Peggy Markel of Peggy Markel's Culinary Adventures. While we're busy exploring the Boulder and Denver food scene, Peggy is out exploring India, Morocco, Spain, and Italy. The part-time Boulder resident was eager to share some Moroccan cooking techniques with Boulder, and we're so glad to have gotten tickets before this event sold out.
Our Friday evening event at Food Lab  exceeded our expectations. Megan, Meagan, Natalie, and Joanna learned how to cook in a tagine, how (and why) to preserve lemons in salt, and then as a team prepared a dessert for the entire group of twenty or so for our family style Moroccan meal.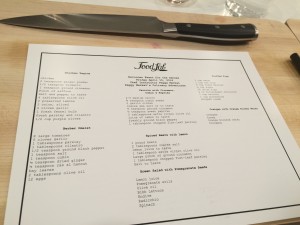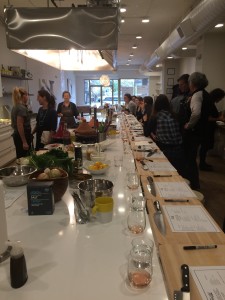 The large instructional kitchen was set with Boos Blocks, knives, our ingredients, and wine when we arrived. Food Lab's owner and founder Casey Easton introduced us to her beautiful space and then introduced Peggy Markel, our chef instructor for the evening. Peggy has almost twenty-five years of experience with her international culinary adventures, and it felt like we were along for a bit of the ride as she talked about the flavors of Morocco and the centerpiece of their cooking, the tagine.
There were questions and answers, friendly banter, and lots of cooking tips, such as how to preserve lemons in salt. Team Local Table Tours had front row seats!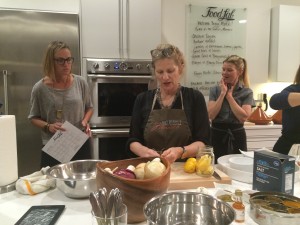 We were broken up into groups to make a dish for our family style meal, and we ladies were tasked with the wine soaked figs stuffed with chocolate and rolled in nuts. We were definitely up for the task!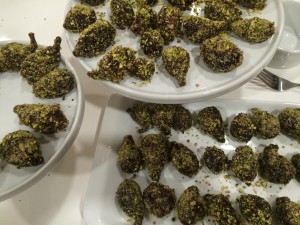 When each group finished their dishes- Chicken Tagine, Berber Omelet, Carrots with Cinnamon, Cumin, and Paprika, Spiced Beets with Lemon, Green Salad with Pomegranate Seeds, Stuffed Figs, and Oranges with Orange Flower Water, we gathered around the most beautiful community table in Boulder for a feast.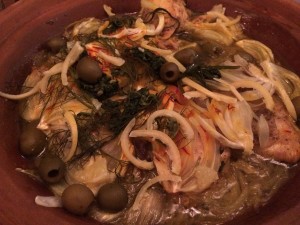 The chicken tagine was superb, with chicken cooked in ginger, turmeric, cinnamon, saffron, olive oil, preserved lemons, onions, garlic, fennel bulb, parsley, cilantro, and olives. This was a restaurant-quality dish that was difficult to stop diving into over and over again for seconds and thirds.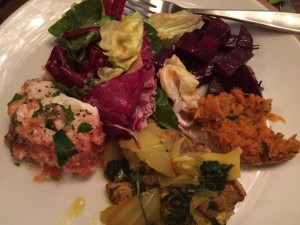 We ended up with a rainbow on our plates in a truly informative group cooking and dining experience. We're HUGE fans of Food Lab and highly recommend staying up to date with their calendar. Locals and visitors alike will find this new downtown Boulder cooking school a perfect place to gather, learn, cook, and eat.