Some bars in Boulder are starting to serve ROOT, a pre-prohibition style spirit that is sure to please anyone who likes the flavor of root beer.  In fact, root beer, a prohibition non-alcoholic beverage, got its start from Root Tea, an alcoholic spirit.  The folks at Art in the Age say it best, so I'll quote:
"Here at Art in the Age, we thought it would be interesting and fun to turn back the clock and recreate a true pre-temperance alcoholic Root Tea. We've even made it certified organic, since back then, everything was organic. This is the opposite of corporate culture. It's a genuine experience rooted in history and our own landscape. It is a truly interesting and contemplative quaff. Certainly like nothing else we have ever tasted before. It is NOT Root Beer flavored vodka or a sickly sweet liqueur."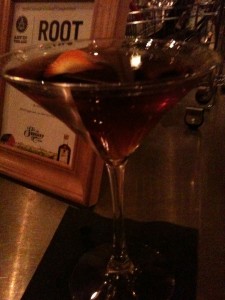 I recently got to taste ROOT in 10 or 11 different cocktails at Colorado's First ROOT Cocktail Competition and realized just how versatile this spirit actually is.  If you enjoy the flavor or root beer, I can pretty much guarantee you're going to like this spirit.  it is available in Liquor Mart if you're adventurous and enjoy dabbling in mixology at home.
If not, you can ask for a cocktail at Oak at Fourteenth, The Bitter Bar, or Mateo. tell them Megan from Local Table Tours sent you.