I always like to bring groups on our Market tours to the Hazel Dell Mushroom stand to meet my friend Chad and to marvel at the most beautiful mushrooms most people have ever seen.  Hazel Dell Mushrooms are a staple in the best restaurants here in the front range, and once each year Hazel Dell opens its doors for an open house and candid tour of the mushroom farm.  I had it marked on my calendar for months and am so glad I made the drive north to Fort Collins, CO.
Chad often tells my tour guests that Hazel Dell mushrooms are certified organic by the state of Colorado, that they grow a lot of mushrooms in saw dust, and they "fool" the mushrooms into "thinking" it is spring all the time in closely monitored sea freight containers.  Seeing it in person makes for a powerful story of these small fungi.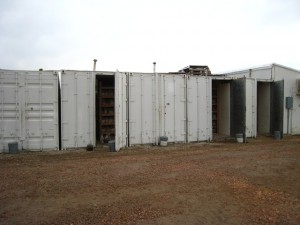 There are a number of containers on the farm where mushrooms incubate. Then they're transferred into a larger climate controlled room that is so humid it made my glasses fog up multiple times.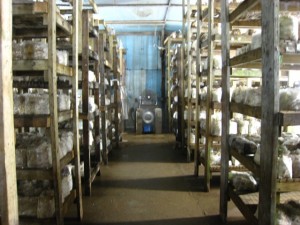 This room was amazing.  You have to see it (or experience it) to believe it, so make sure to visit next year for Hazel Dell's annual open house!  All of the mushrooms we see at the market each week grow here in the most unique looking packets.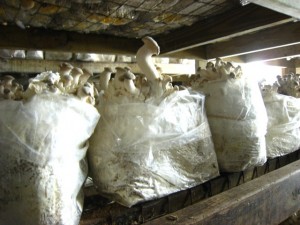 The Hazel Dell Mushroom experts do their best to mimic nature and are able to produce mushrooms year-round.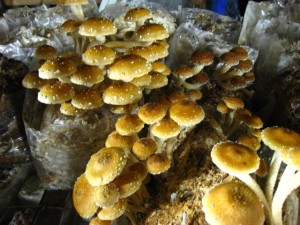 I felt like I was witnessing a really cool, super complex science experiment as Chad talked to us about how simply tossing each incubated package up to a worker straddling shelves a number of feet above the ground simulates a tree falling in the forest, which stimulates growth.  Really?  So if a tree falls in the forest and nobody is there to hear it, at least the mushrooms will know… and then grow.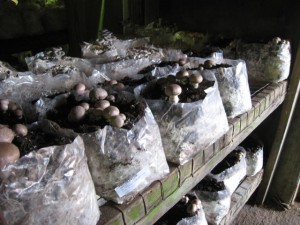 It is always nice to see where exactly your food comes from, and learning some behind-the-scenes details about the mushrooms I buy each week was, for me, a great way to spend a Saturday afternoon.
Last Wednesday was a another beautiful day for a tour through downtown Boulder!  When we met on Pearl Street, there were hundreds of people milling around, enjoying all the performers and the sights and sounds of a perfect Colorado afternoon.  We walked down Pearl Street to our first stop – Leaf Vegetarian Restaurant.
At Leaf, the group enjoyed 3 perfectly plated samples:  A Raw Wrap with swiss chard and basil almond pâté, Raw Ravioli with beet, and Buffalo Seitan with blue cheese, carrot and celery salad paired with a Spanish white wine from Catalunya.  All our tour groups have enjoyed the beautifully appointed dining room, as well as the samples of delicious creations by Chef Steve Dustin.
We continued on to SALT, where a brandy cocktail with a honey cardamom simple syrup was waiting for us.  We sat at the bar overlooking the impressive kitchen.  Evan, the Beverage Director at SALT, talked with us about mixing the perfect cocktail, and pairing wine with our food samples.  Executive Chef Kevin Kidd talked with us about sourcing local ingredients as we enjoyed crostini with butter, radish and arugula; followed by prosciutto wrapped asparagus, Hazel Dell Mushroom and Haystack goat cheese in filo; all paired with a California Gewurtztraminer.  The extra special treat at the end of our visit was a sample of SALT's famous dark chocolate caramel salt tart.
Before continuing to our next partner restaurant, we stopped at Savory Spice Shop to talk with Dan about the variety of spices and seasoning mixes he carries at his shop.  We sampled different kinds of cinnamon from around the world, freeze dried corn, and candied ginger.  The staff at Savory paired up with our tour guests and expertly helped us through seasonings to use with some of our favorite dishes.
As we walked up to the Boulderado Hotel, a bridal party was checking in to this beautiful, historic hotel. The dining room at Q's is elegant, and we sat on the restaurant's enclosed glass porch to enjoy the Chef's garden greens with house smoked salmon and capers, paired with Q's signature orange- cranberry spritzer.  Q's manager talked with us about the variety of programs and initiatives they use to be as sustainable as possible, including using wind power and partnering with a local biodiesel company.
We ended our tour at the bustling Boulder Farmers' Market. First, we took in the sites and sounds of the busy market, stopping to sample Sugar Snap peas from Munson Farms (one of the original farms to participate in the market over 20 years ago), and popcorn from Boulder Popcorn.  Then we met up with Antonio Laudisio, who cooked us pizza in his brick pizza oven using Hazel Dell mushrooms.  We topped off our tour with a small scoop of all-natural, vanilla ice cream from Boulder Ice Cream.
If you would like to experience Boulder's culinary scene for yourself, please click here for a listing of upcoming tours.  We look forward to seeing you on a future tour.  Each tour varies slightly, and as different seasonal ingredients become available, our chefs will change up what they share with us.
Cheers!
Julie and Megan