We're proud to have been listed in the Yellow Scene 2012 Best of the West list for our Thursday cocktail tours in Boulder.  A number of great places in town also won Best of the West titles, like Frasca, Cured, The Tasterie Truck, OAK at Fourteenth, Pizzeria Locale, and Mateo.
Check out the full list here: Yellow Scene Best of the West 2012
We've been having a great time on Boulder Cocktail Tours this month.  Thanks so much to West End Tavern, Tahona, SALT, and The Pinyon for serving up some great libations along with a mini lesson on spirits, distillation, oak and aging, adding carbonation… there's so much to learn, which is why I'm thrilled to have been guiding cocktail tours since April 2011.  If you haven't yet joined a cocktail tour, I encourage you to register for a Thursday tour in Boulder or a Saturday tour in Denver.  I like to think of these tours as continuing education for anyone who enjoys going out for a good time.
If you have been on a cocktail tour, I encourage you to register for another one.  They're always different and always fun.  Here's an idea of what we've tasted this month.  Cheers!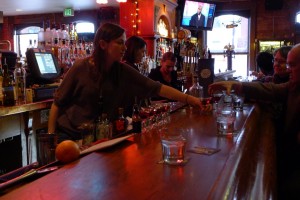 Caroline from West End Tavern knows her bourbon and can tell you everything she knows while offering sips of different spirits and samples of her signature cocktails, such as the Ron Burgundy (left) and an Old Fashioned (right).
Tahona has been a fun stop on some tours and we've been sampling a variety of blanco, reposado, and añejo tequilas.  If you have questions about the differences between blanco, reposado, and añejo, it's probably time you join us on a cocktail tour…
Tina offered us a blanco Republic Tequila as well as some Republic that they had barrel aged in house into a reposado.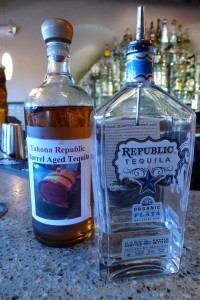 On a different tour, Ally offered us a tasting of Gran Centenario plata, reposado, and añejo as well as a tasting of her coin style margarita.
Connor at SALT treated us to a sweet creation of his, the Barry White and a classic- The Aviation.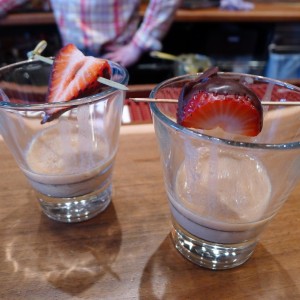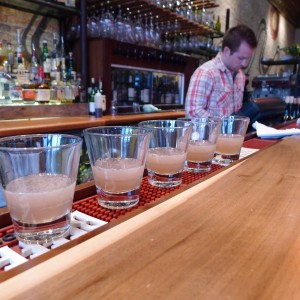 The Pinyon was also a featured stop on a couple tours and we drank a Hops not Tonic (left), a beer cocktail created by Dan Mirsky, and a soda bottled cocktail with some dangerously good chicken wings.
Chef owner Theo Adley likes hanging at his own bar, so we're often very well entertained at The Pinyon.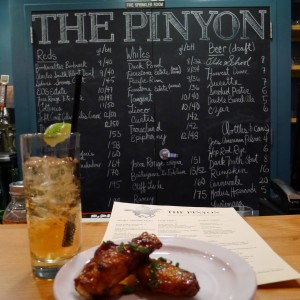 Boulder cocktail tours run every Thursday.  We visit 3 great local bars and get to ask the experts all of our cocktail questions.  It's the best way to bar hop in town.