Anyone who spends time with me knows how very much I love Oak at Fourteenth. The food, libations, owners, and staff make this one of the best places in town for a cocktail, small plate, happy hour, formal sit-down dinner, late night… It's always great, but somehow, I think it managed to move up a notch.
I attended a Milagro Tequila make-your-own cocktail "class" and dinner, led by Gaston Martinez, a brand ambassador of Milagro Tequila. As a weekly guide of my own cocktail tours, I've tried a fair share of tequilas. But, this was my first in-depth experience with Milagro.
When I say the "class" was led by the brand ambassador, that means that a real tequila aficionado came to Oak, set up the Acorn Room with all things Milagro, and spent two hours or so introducing us to the Milagro brand of tequilas.  As a note: I paid the $40 to attend this event and was not asked to, nor offered anything free to write a glowing review.
The attendees met at 5:30 in the Acorn Room, Oak's private dining room, which was all decked out in Milagro Tequila swag.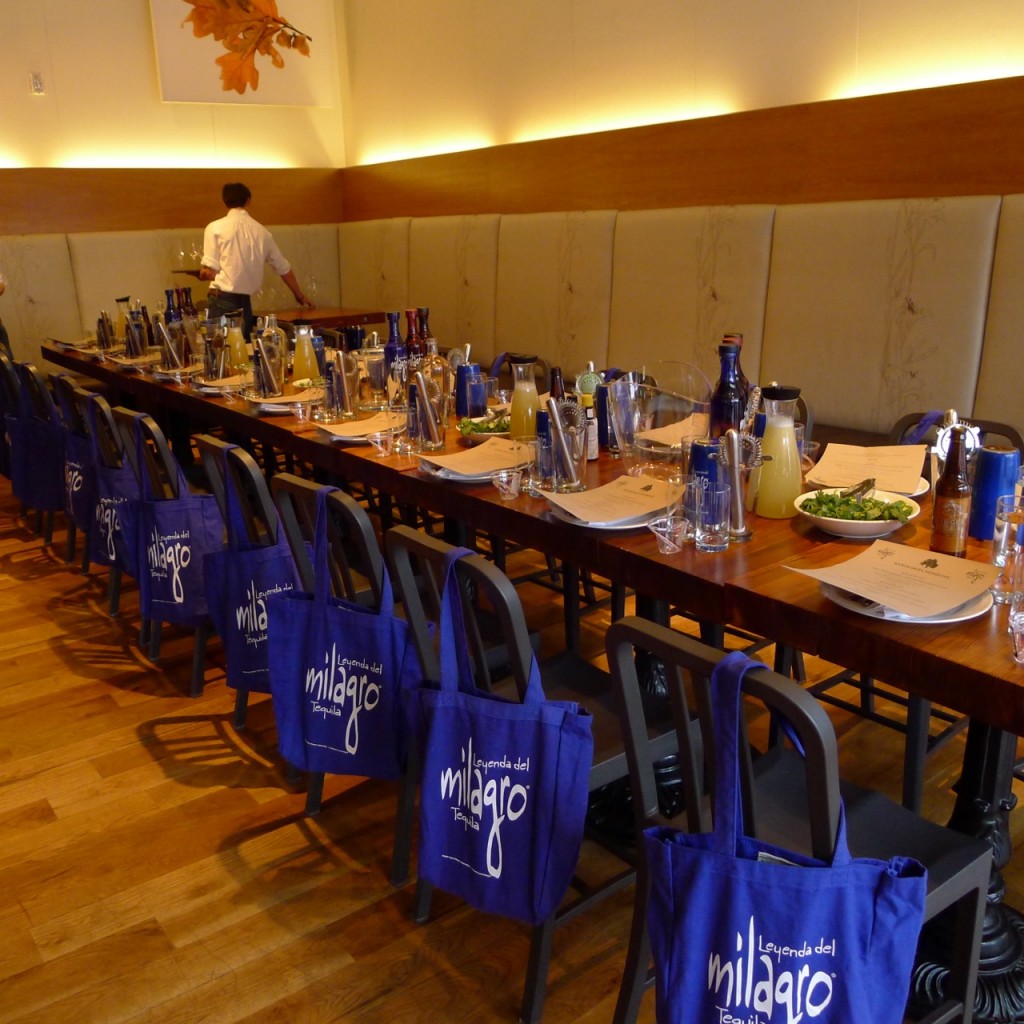 There were Boston shakers, muddlers, ice buckets, and all the ingredients needed to make three signature tequila cocktails, such as blackberries and sage, pineapple and basil, cucumbers and jalapeños, cilantro, bitters, freshly made sour mix… I hadn't actually been expecting to be muddling, let alone to be amongst a group of twenty muddlers, so, let's just say I was stoked upon arrival.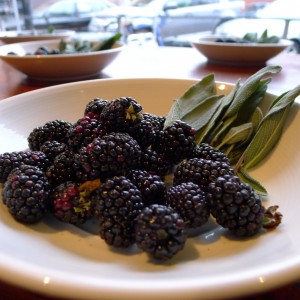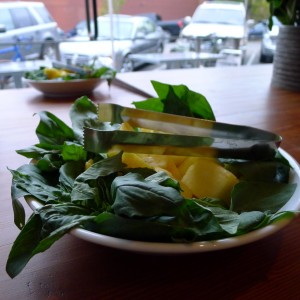 Oak's esteemed staff started passing their signature Crispy Fried Pickles & Green Goddess Aioli, Key West Shrimp and Grits with Tabasco Butter, and a welcome cocktail called "The Freshest Margarita" made with Milagro silver, lime juice, and agave nectar.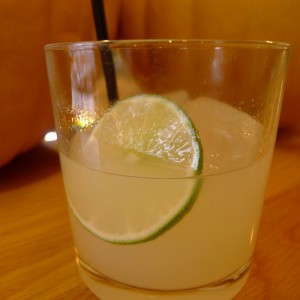 After a couple welcome beverages, we gathered around the table for a nice greeting by Oak owner and crafter-of-all-things-cocktail, Bryan Dayton. Then, Bryan set us loose with Gaston who got us right to work making our first cocktail: The Mercadito (You'll find all cocktail recipes at the bottom of this post).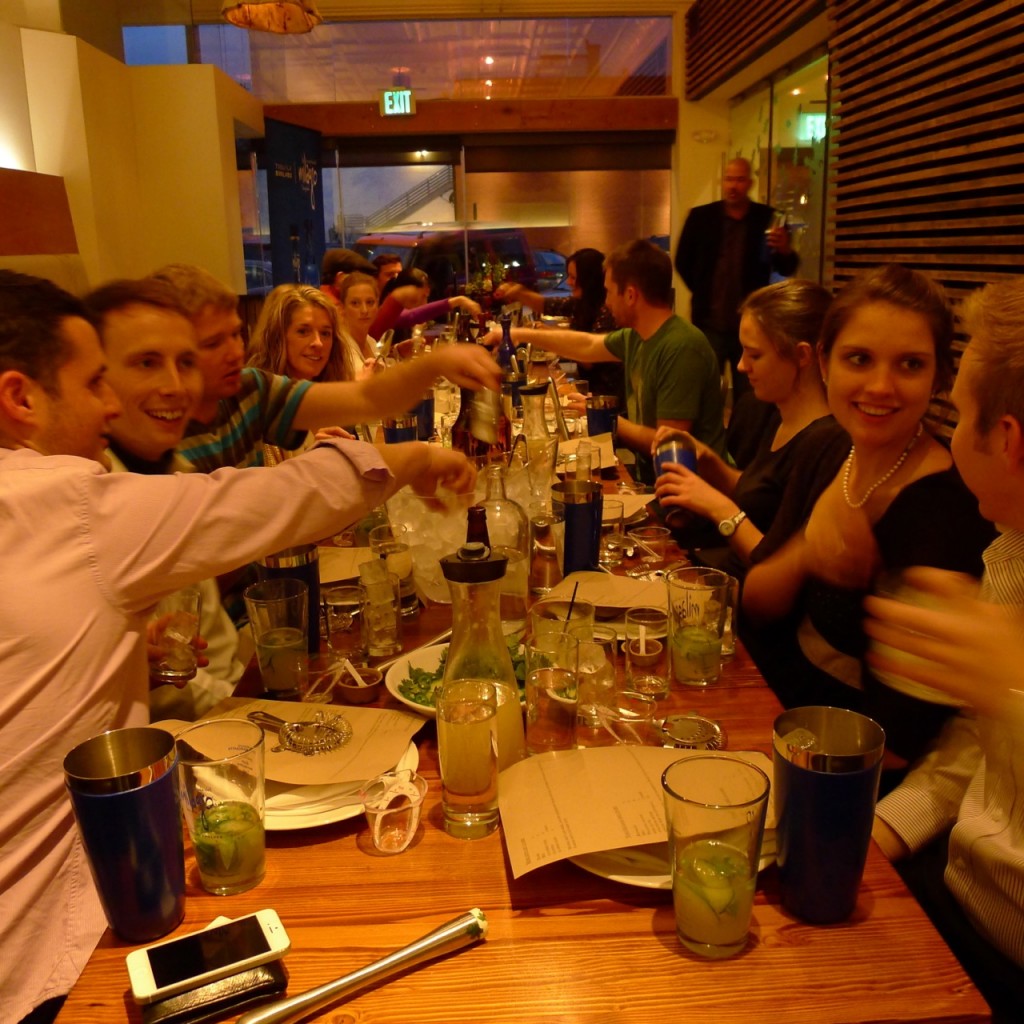 Midway through making my Mercadito (a cucumber, jalapeño, cilantro cocktail), I switched settings on my camera… as a side note…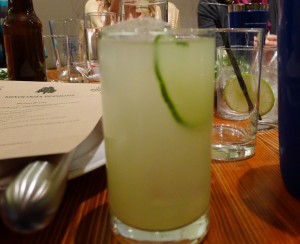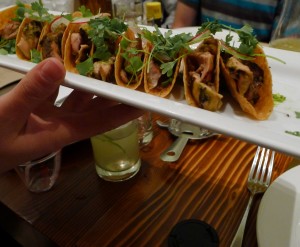 The Mercadito was paired with our first course- Chicken Tacos with Guacamole.
One tip we learned from Gaston about our first cocktail, which had jalapeño, was that a cocktail that is spicy on the lips is too spicy. Apparently, that's a fact, and it created some great conversation with those around me. By the time we had muddled, measured, poured, shaken, strained, and sipped our first cocktail, it felt like we had gathered around a table with old friends. It was clear the evening was headed in the right direction.
Then it was time to move on to cocktail #2- The Veracruzana. This one was particularly fun because we had to muddle pineapple, which quickly turned into pineapple juice after a few moments muddling. I shared in some giddy-as-a-schoolgirl enthusiasm with the women across the table from me.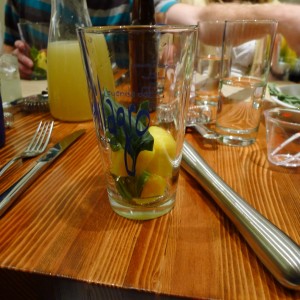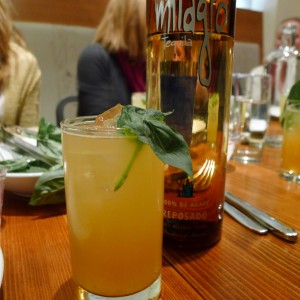 We sipped The Veracruzana while enjoying Braised Short Ribs with Jalapeño & Peanut Relish.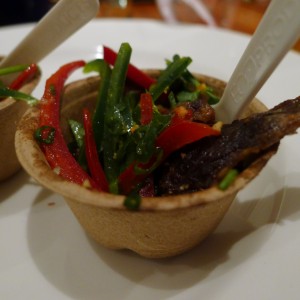 Moving on to the third course… it was time once again to get muddling. Blackberries and a pinch of sage turned into a gorgeously fragrant jam-like medley in our glass.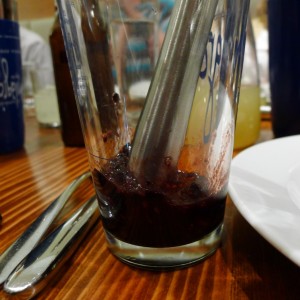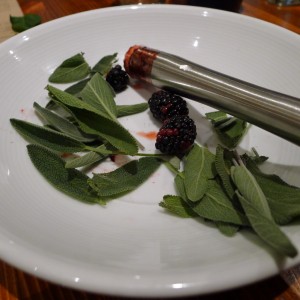 The Carpe Dia was our third and final cocktail, paired with Grilled Chicken Tenders & Shishito Pepper Skewers with Pomegranate Molasses. Yum.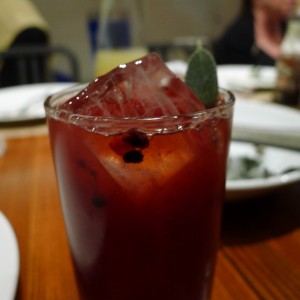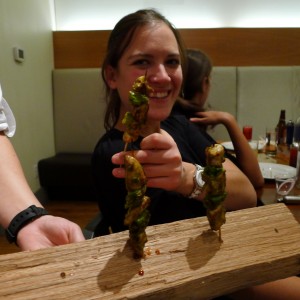 I had the honor and privilege of sitting next to one of Oak's bartenders, Audrey, and I assure everyone at the table had a similar smile upon seeing Oak's presentation of the skewers stuck into a log. It's one of the coolest food presentations I've seen and hope to see it again at Oak.
But anyway… back to the booze. We weren't done drinking our third cocktail (fourth if you count the welcome drink, and I had two of those, so… uh oh…) We were presented a tasting of three award-winning select barrel reserve tequilas- a silver, resposado, and añejo.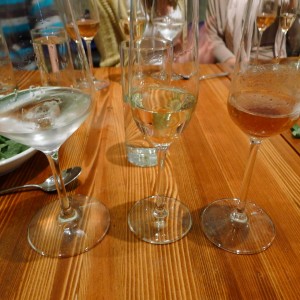 Gaston dusted the reposado with cinnamon, the añejo with cocoa, and brought out a plate of fresh mint that we got to slap (or spank) before adding a leaf to the glass of silver tequila.
I had such a good time that evening and look forward to Oak's next culinary event. You can find out more about special events on the bottom right side of Oak's website oakatfourteenth.com, or on their Facebook page facebook.com/oakatfourteenth. I'm going to do my best to attend their next event and hope to see you there, too.
THE FRESHEST MARGARITA
2 parts Milagro Silver
3/4 part Milagro Agave Nectar
1 part fresh lime juice
Combine all three ingredients in a Boston shaker glass. Shake vigorously with ice and strain into a rocks glass with fresh ice. Garnish with a slice of lime and salt (optional).
MERCADITO
2 parts Milagro Silver
3/4 part Milagro Agave Nectar
1 part fresh lime juice
4 cucumber slices
1 pinch cilantro
1 thin jalapeño slice (or 2 if you'd like it spicy)
Muddle lime and cilantro in a Boston shaker glass. Add remaining ingredients, shake vigorously with ice, and strain into a rocks glass with ice. Garnish with a slice of cucumber and a sprig of cilantro.
VERACRUZANA
2 parts Milagro Reposado
3/4 part Milagro Agave Nectar
1 part fresh lime juice
4 pineapple chunks
2 basil leaves
3 dashes angostura bitters
splash of ginger beer
Muddle pineapple and basil in a Boston shaker glass. Add the remaining ingredients (except the ginger beer), shake vigorously with ice, and strain into a rocks glass with fresh ice. Top off with ginger beer and garnish with a basil leaf.
CARPE DIA
2 parts Milagro Añejo
3/4 part Milagro Agave Nectar
1 part fresh lime juice
5 blackberries
2 sage leaves
Muddle the fruit and herbs in a Boston shaker glass. Add the other ingredients, shake vigorously with ice, and strain into a rocks glass with ice. Garnish the cocktail with a blackberry and a sage sprig.