Ají is consistently a delicious stop on dining tours in Boulder, but as someone who is frequently guiding tours, I don't always experience restaurants during peak dinner hours for a sit-down meal. So, my esteemed guide Heather and I decided to indulge in one of their regional monthly meals.
Once per month, Ají offers a prix fixe regional dinner featuring cuisine from a different Latin American region. September's region was Mexico, and I found myself wanting to speak Spanish as three fantastic plates of food paired with tequila cocktails were served.
We started with Sopes de Jabali, which was a pinch masa cake, pinto beans, braised wild boar, salsa charra, and queso a mano. This came paired with a Corrido Blanco Margarita made with Corrido Blanco Tequila, lime juice, agave, and triple sec.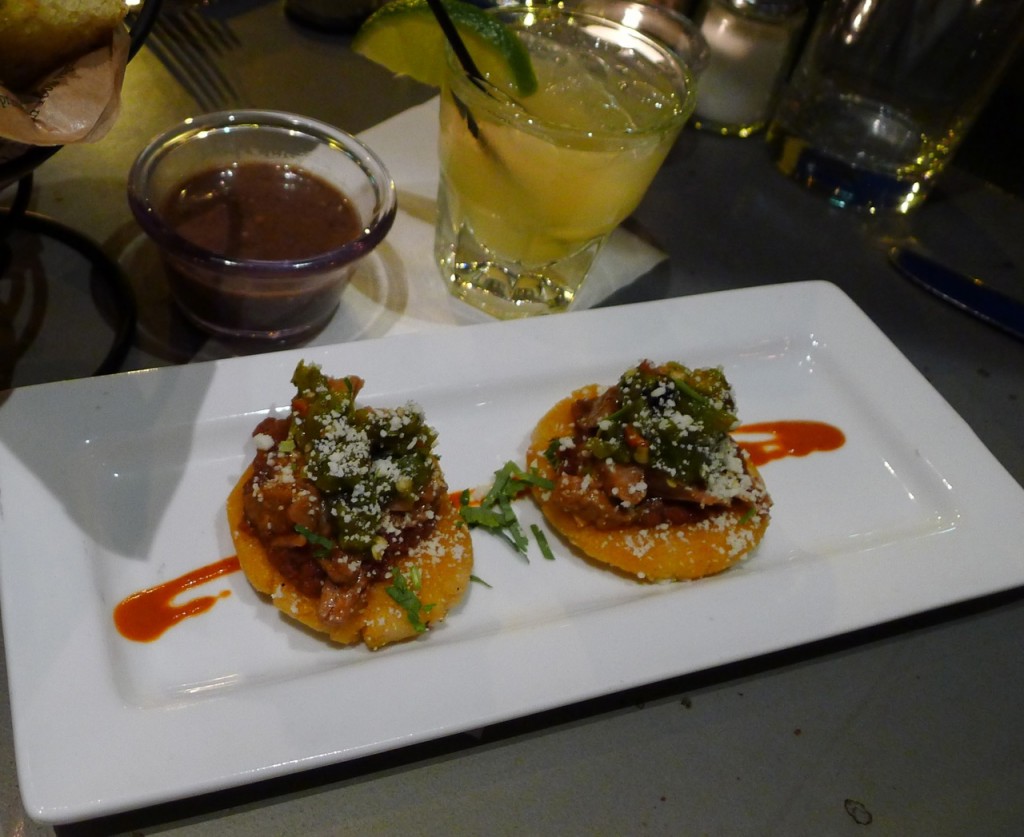 These little cornmeal cakes were the perfect vessel for pinto beans and wild boar because you didn't end up with too much corn cake or too much topping. Heather and I discussed this nearly perfect ratio of corncake to topping and before we knew it, we were done with the first course.
Next came Sopa de Fideo y Ensalada de Chile and a Paloma, which was Casa Nobles Reposado Tequila, grapefruit juice, lime, soda, and agave.
Here's what we found most interesting about this plate of tomato-based noodle soup and chili salad: The chili was stuffed with lettuce. I don't recall ever having a chili stuffed with lettuce. They're usually full of all kinds of cheese and high-calorie goodness, so after the initial surprise to find lettuce on the inside, it was quite delightful and light… which it should be if it's called "Algo Leve" on the menu. "Leve" means "light" en español.
The main dish was traditional Mexican Mole Poblano, roasted quail, rice enchilada, braised apples, pomegranate seeds, crema, and pickled radish served with an El Cazador Viejo margarita.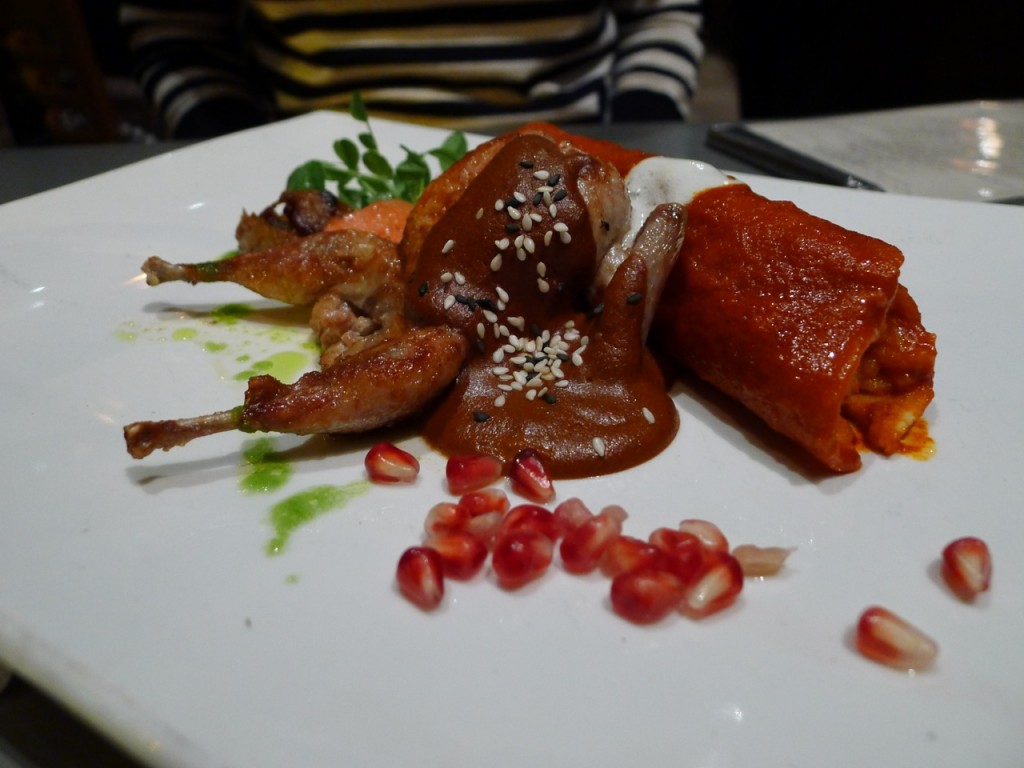 Neither Heather nor I had eaten a roasted quail before, so this was a fun first. The quail kind of tasted like chicken and had a decent amount of meat on those tiny bones. Chef Jaime Martinez' mole was really flavorful and savory and tied the whole dish together. I will be back for his mole, for sure.
So, Heather and I gave two thumbs up to our dinner. Service was great, the food was great, presentation was great.  We're very proud to feature them on culinary tours and fortunate to have them in town.