There are a number of independently owned coffee shops in downtown Boulder, but few of them are as dedicated to the art of a respectably brewed cup as those selected for our tours. Each establishment we visit pours a locally roasted cup (you need to consider the altitude while roasting), yet all are quite unique. Learn about differences in beans, roasts, and brewing methods based on the bean's origin, brewing at altitude, and dare to ask about the "chocolate" in a Mocha-Java (hint: there is NO chocolate). But, we will definitely end with chocolate at Boulder's independently owned chocolate boutique. Both coffee and chocolate are grown in the same regions of the world, so test your geography knowledge as we taste our way through town. Coffee samples, fine chocolate, and engaging conversation make this tour an ideal way to start the day. Dietary restrictions are not accommodated on this tour.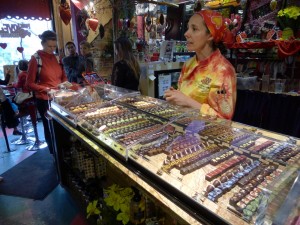 We hold two coffee and chocolate tours on Saturday mornings each month (and by special request) 10:30 am, $35 per person
Contact us at 303-909-5747 to inquire!