I recently traveled to London and Reykjavik, and found some fantastic coffee.
Two shops right around the corner from each other in the Fittzrovia neighborhood in London felt like I was on a Coffee Tour with Local Table Tours. First, my husband and I split a Coffee Flight at Kaffeine, where they prepared an espresso, a shot of cascara (an infusion made with the coffee cherries), and a cappuccino. We're frequently discussing coffee cherries on tour in Boulder, so it was great to finally taste their subtle sweet and sourness for the first time.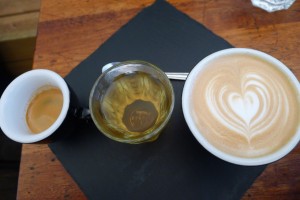 We headed next to the coffee bar at Workshop, a local coffee roaster, shop, and supplier to many other establishments. These guys reminded us of our very own Ozo Coffee as they dosed their beans in small containers, set their water temp to just under boiling, measured water volume on scales, and had a timer handy. I ordered an Aeropress as I'd never had one and again, has been a topic frequently discussed on tours. We talked with the barista about brewing here in Boulder at high elevation and, for a moment, considered scrapping the rest of our afternoon plans and heading out to visit every craft coffee roaster in the Fitzrovia neighborhood. That was an unrealistic goal, so two stops was the end of our little outing that day.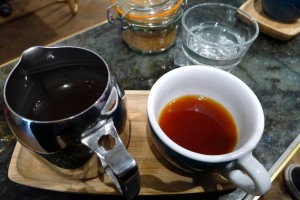 These two coffee stops were an oasis in a dessert of instant coffee granules, stale, pre-ground beans in hotels, or, dare I say, tea.
When we stopped for a night in Reykjavik on our way back to Denver, we were pleased to find a local roaster: Reykjavic Roasters. I love their roaster because it looks like it's winking at you!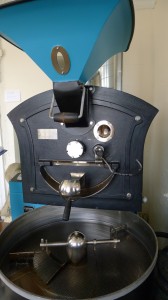 We stopped in to buy a bag of beans while beans were roasting, which we could smell from blocks away. We bought a bag of their Colombia coffee and brought it back to Boulder to enjoy, one sip at a time.