We proudly feature Piece, Love, and Chocolate on our tours at least twice each month and feel so very fortunate to live in a town that indulgently adores our independently (female) owned chocolate boutique. So, when reading about The Chocolate Cartel in the local EDIBLE magazine while on a recent culinary excursion to New Mexico, it immediately became our next destination.
Albuquerque is a completely different city than Boulder or Denver. Getting to The Chocolate Cartel is not as easy as driving downtown, parking, and enjoying a leisurely city walk to an independently owned shop. You're on highways and beltways and interstates, and, (don't miss your exit!) a nondescript building sits on a corner, advertising Gelato and Chocolate.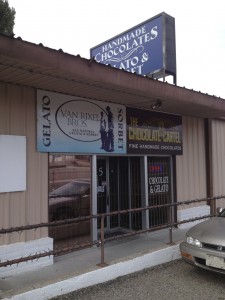 This gelato and chocolate shop is absolutely worth a visit if you are in Albuquerque or the vicinity. The first display case upon entering has beautiful handmade truffles topped with simple, yet elegant, designs to help you visualize your gustatory experience.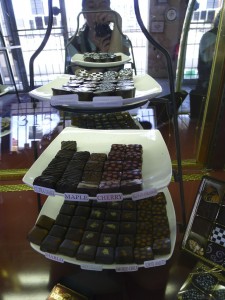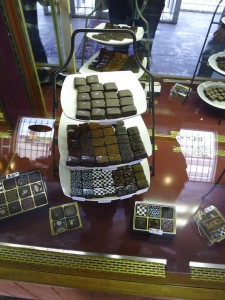 We decided to pick up a twelve-pack… or, perhaps, a hand-selected box of twelve, to bring back to Boulder.
Top row (from the left): Ultra Dark, Flowers of Italy, Peanut Butter, Smoked Chile. Middle row: Maple, Salt Caramel, Cinnamon, Green Chile and Salt. Bottom row: Almond Amaretto, Honey Pollen, Pine Nut, Diablo.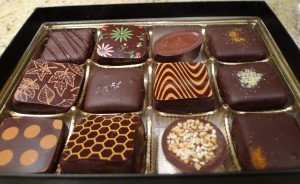 The chocolates that contained chiles perfectly highlighted their respective chilies, and the Smoked and Green Chile Chocolates tasted tame enough for most chocolate and chile fans.  The Diablo, however, was not tame. This was what seemed like equal parts cayenne and chocolate and was not necessarily something for the somewhat spicy- adverse.
Ultra Dark was a connoisseur's chocolate. It was rich, elegant, and sharable. Flowers of Italy was good, but we weren't able to place exactly which flowers were incorporated. It was subtle and well-balanced. The Peanut Butter piece was perfect and I would eat one every day if possible. The Maple was not what we were expecting. Coming from a Vermont-Maple background, this piece tasted like Aunt J's fake maple syrup, so it was not a favorite.  The Salt Caramel truffle was very good! This was a caramel with a pull and a perfect chocolate and salt combination that leaves one craving for just…one…more. Cinnamon, just like the Diablo, was unbalanced. There was way too much cinnamon for what one needs to get the expression of cinnamon in such delicate chocolates. Next up was Almond Amaretto. If you're familiar with Di Saronno, this piece will likely meet your expectations. The Honey Pollen piece was a nice, subtle honey pollen bite. If you're not familiar with honey pollen, don't expect the flavor of honey. Honey pollen, the spice of the angels, adds depth and a touch of anise-like flavor to whatever it touches. Finally, we tried Pine Nut. This is not the Italian Pignoli. This is a chocolate and locally sourced New Mexican pine nut bite (maybe two), that causes a brief moment of , "Oh, wait. Why don't we live in a state that grows these?"
In the diamond-in-the-rough that is Albuquerque, The Chocolate Cartel is one of the first and most highly polished facets. We wish them much success and will highly recommend them whenever chocolate shops or SW culinary excursions come up in conversations in our tours.