Local Table Tours was recently asked by the Boulder Convention and Visitor's Bureau to bring a travel writer around town to some of our favorite spots for an evening dining tour. Sounds like fun!
As it was a Tuesday, we started at Cured to enjoy their weekly Tuesday evening wine tasting, and followed that with a delicious cheese and charcuterie platter prepared by their esteemed manager, Jessica.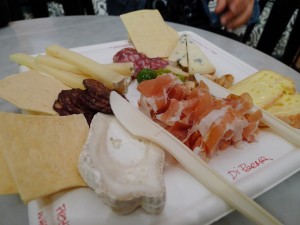 Jessica knows her way around cheese and gave us a great taste of old world and new world cheeses and meats. We could have sat there nibbling and learning about cheese all evening, but we were heading over to Bramble & Hare for a few cocktails and local farm bites.
Bar manager Griffin Farro, widely acclaimed as one of the best bartenders in town, created three different libations for us to try: A beet cocktail with juice from Black Cat Farm's beets,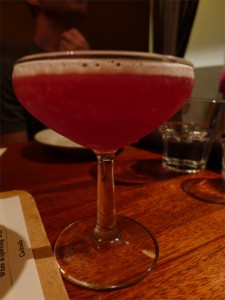 one with carrot puree from their carrots, called Skokan's Garden,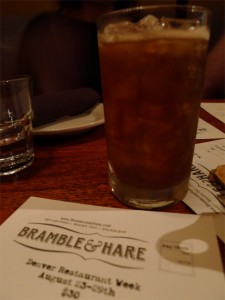 and a bartender's choice, which allows Griffin to play around behind the bar.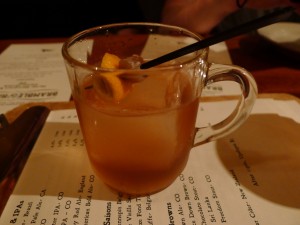 Next came a beet salad with house made ricotta cheese (and please pardon the lighting, as Bramble & Hare is a very dimly lit establishment).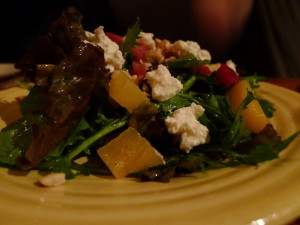 Then arrived some ridiculously good Mac & Cheese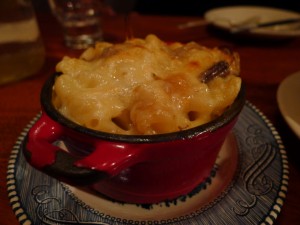 followed by some of the most tender chicken wings ever. Period.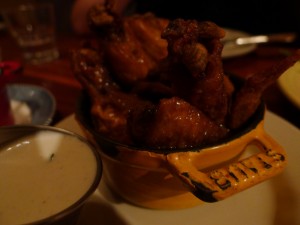 Chef/owner/farmer Eric Skokan came to greet us at this point and wouldn't reveal a single secret about the mac & cheese nor the wings. It was worth asking, but didn't get us anywhere close to figuring out his finger-licking-good secret.
And then it was time to walk a block away to Boulder's highly acclaimed OAK at Fourteenth for our entree, or so I thought. OAK spoiled us with four courses of seasonal food and drink pairings. Sous Chef Bill Espiricueta started us off with a deconstructed gazpacho, served by pouring the tomato broth table side.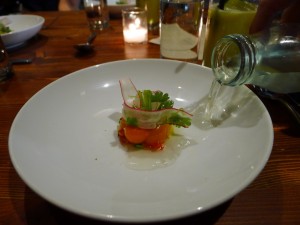 The light and perfectly prepared gazpacho was appropriately paired with a Monk's Garden, a tail of basil and tarragon infused vodka, Green Chartreuse, cucumber, lavender, and lime (which can barely be seen in the photo above, just behind the spout of tomato broth being poured into the bowl).
Next, we enjoyed some corn and ricotta stuffed ravioli and a rose from Provence. Perfect. Simply perfect, except for the fact that licking our platters clean would have been frowned upon.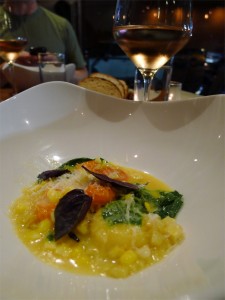 Our ravioli was followed by wood-fired oven roasted chicken on a fresh corn slaw and a corn cake, paired with a Firestone Walker beer.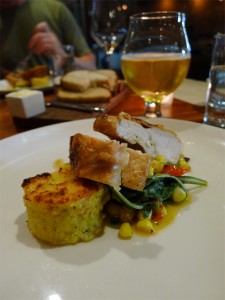 But, there's ALWAYS room for dessert, right? There was definitely room for a mini peach bourbon milkshake.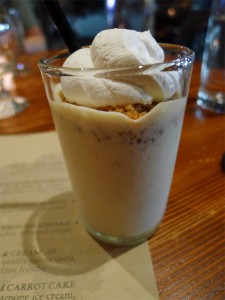 This was an incredible taste of Boulder. Ah… the life of a food tour guide is very tough.