Last year Pizzeria Locale featured guest chef Chris Thompson of San Francisco's A 16 for two nights here in Boulder. Some friends and I had an exceptional dining experience that I documented on A Bolder Table. This year Caleb Schiff of Pizzicletta in Flagstaff, AZ, came to Boulder to be featured for two nights at Locale. Last year I had the privilege of dining in the Caffe rather than the pizzeria, and it was so much more quiet and intimate, so I requested a six top in the Caffe again, found five special guests, and arrived with an appetite.
Pizzicleta offered a prix fixe menu at $18 per person for three courses. Just as the A 16 dinner last year- this was without a doubt the best deal on dinner in town.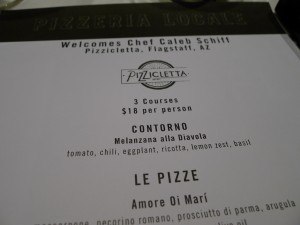 Pizzaiolo Schiff offered a Contorno (veggie side dish), a choice of two pizzas, and a choice of two gelati. Amongst the six of us, we tried everything plus a couple bottles of wine.
Our contorno was Melanzana alla Diavola- tomato, chili, eggplant, ricotta, lemon zest, and basil.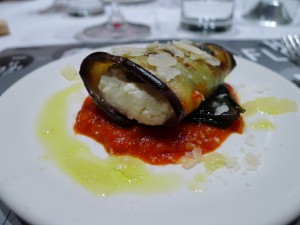 This rolled slice of eggplant stuffed with cheese on top of one of the most delicious tomato sauces I've ever had left all of us wanting more as we pretty much devoured every morsel on our plates. We were off to a great start.
Next came le pizze and we had a choice of red or white.
The Calabria had that amazing tomato sauce, calabrian chili, fresh ricotta, and oregano.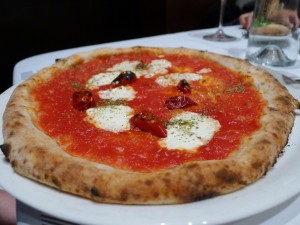 The Amore Oi Marí pizza had marscapone, pecorino romano, prosciutto di parma, arugula,and queen creek meyer lemon olive oil.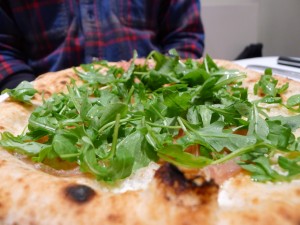 As I frequent Locale both on culinary tours and as a hot spot for dining with friends, I'm pretty familiar with the manager and servers. That was a real bonus for my group of friends and me because Dan, the manager, asked guest chef Caleb Schiff to greet us. Caleb didn't just come and say hello- he introduced each course to us and answered all kinds of questions from my group. It was truly educational and delectable. Caleb explained to us that his dough is a sour dough that he makes with natural yeast. He arrived in Boulder a couple days early to make and proof his dough, and it was such fantastic dough that were money not an issue I'd travel to Flagstaff at least once a month just for a taste of his pizza. I was so completely satiated with his pizza at Locale that it warrants a trip to AZ to taste this pizza made in Pizzicletta's own oven to experience the blistery "leopard-spotted" crust Caleb is known for.
I could go on to talk about dessert, but at this point I'd like to say the private dining experience in il Caffe is one not to be missed. Frasca and Locale will rent the Caffe for small gatherings, and it's a very intimate, fun experience. Be careful though- The servers can hear everything, so if your quirky friend Matt starts talking about the whale jerky someone sent him from Japan, the pizzaiolo might come by to hear all about it.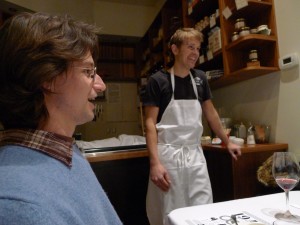 After learning all about this mysterious whale jerky (which I got to try a few days later, by the way) Caleb introduced our final course, Gelati.
I got to try both desserts. I ordered the Roasted Almond Gelato which had a fine texture of almond nibs. My chef companion Sean went for the Olive Oil Gelato.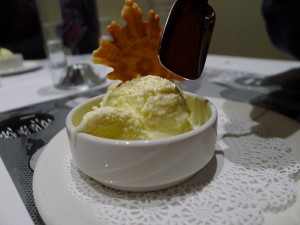 Pizzicletta features extra virgin olive oil from Casa Pau Hana Olive Oil Farm in Paso Robles, CA. I don't recall ever tasting olive oil ice cream, and the few bites I had set the bar really high for any future olive oil ice cream. Chef Caleb explained to us that he gets very fresh olive oil (freshly pressed), and he enjoys cooking with it because it imparts a very sweet, fruity taste not necessarily found in olive oils that were bottled months before being opened.
By the end of the meal, we were all full, satiated, and quite happy to have enjoyed each others' company in the private space offered by il Caffe. I'm already looking forward to Pizzeria Locale's yet-to-be-announced next pizzaiolo.
Cheers!