Les Dames d'Escoffier of Colorado are a lovely group of ladies, or dames, if we dare declare, who are a women's philanthropic organization that raises money for women entering the culinary field. Local Table Tours was honored to bring them on a tasting tour to a handful of Boulder's best establishments.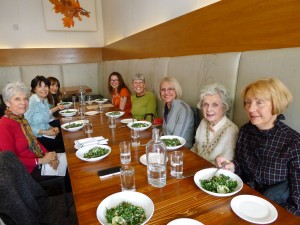 Our first stop was OAK at Fourteenth for a "healthy" start to our afternoon. OAK has been known for a couple years now for it's kale and apple salad. Chef Steve Redzikowski started serving this salad well before kale was cool, and it's been a staple on their menu since they opened. No culinary excursion to Boulder is complete without a taste of OAK, as it continues to be listed among the top restaurants in Colorado.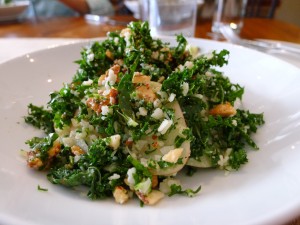 We enjoyed the kale salad with a taste of a cocktail, as OAK is lauded not just for it's fantastic food, but for it's beverage program by co-owner Bryan Dayton as well. We enjoyed a light tail called The Steph, which is named after a frequent customer of Dayton's bar .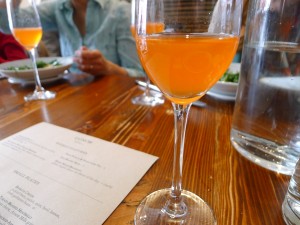 We had a nice table in their private dining room, The Acorn Room, and as with many tours, just as soon as we were comfortable, it was time to move on… to cheese. Cured was our second stop and one of their managers and cheese aficionados, Jessica, offered us some tastes of her absolute favorite cheeses- a Kunik, Dunbarton Blue Cheddar, and Pleasant Ridge Reserve. My personal highlight of this tour was when she told us we were tasting a brand new wheel of Kinsman Ridge that she herself had not yet tasted. This wheel was made by the Landaff Creamery and aged at Jasper Hill, which means a WHOLE LOT to you if you follow artisan cheese. If you don't, all you need to know is it's a delicious cheese and you'd like to buy at least a 1/2 pound.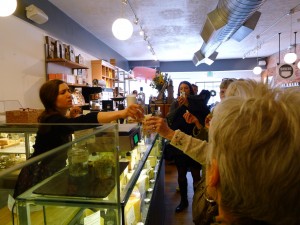 From Cured we went to Zeal- Food for Enthusiasts, for a nice chat with Culinary Director Arik Markus and a taste of a cold-pressed juice cocktail, falafel (which features carrot pulp from the juicer) and hummus. Zeal is Boulder's newest restaurant, and has quickly become an excitingly popular place for healthy, clean food on the east end of Pearl Street. We could have sat at their community table all afternoon talking about food, but it was yet again time to move on.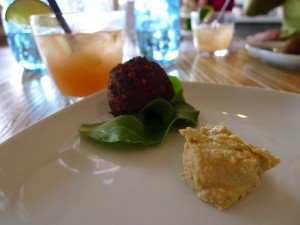 By this time we were running a few minutes late, but our next stop, Locale Boulder, was luckily right next door. We arrived to a table of ten Aperol Spritz cocktails, which undoubtedly caused ten smiles. A spritz, arancini, and pizza allowed us a nice time to relax, eat, drink, and talk about the Colorado food scene. It became clear at this point that Local Table Tours' guides have a VERY difficult job (smile).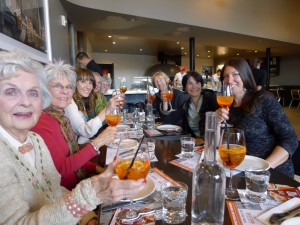 Our dining experience at Locale was highlighted by a taste of their Budino, a perfect pudding that you MUST try.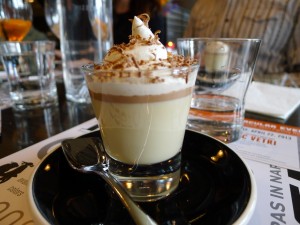 After our first dessert, we were invited to visit the Stefano Ferrara oven,  a 1,000 degree wood burning oven that is relatively cool to the touch on the outside. This is always a surprise to tour guests. How could something thats SO HOT be approachable…?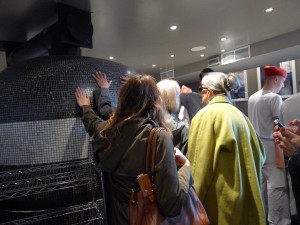 After a tour through the immaculate kitchen of Frasca Food & Wine, an introduction to their glass polishing room, and exiting through the formal dining room, we continued on to our second dessert at Piece Love & Chocolate. Sarah Amorese, owner and chocolate expert, not only introduced us to her chocolate boutique, but offered us tastes of baked goods, truffles, chocolate covered candied bacon, and sipping chocolate.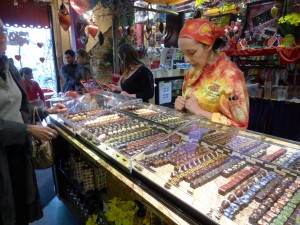 This was an incredibly fun afternoon, and we at Local Table Tours look forward to doing something like this again soon.